"We are here to awaken from the illusion of separateness."

— Thich Nhat Hanh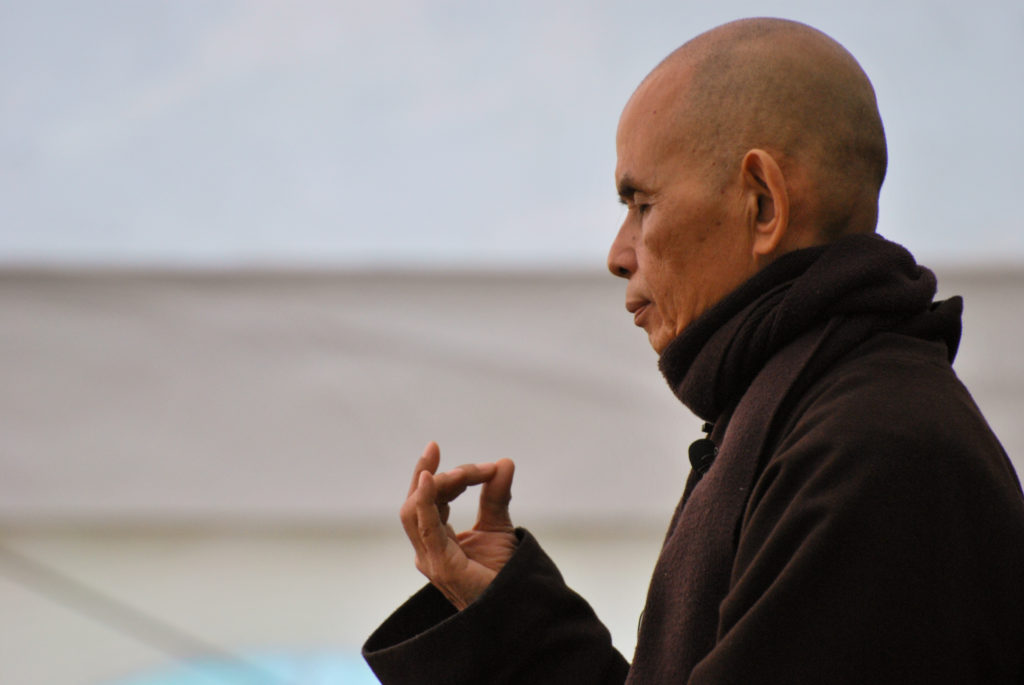 This is the way I came to dharma practice. In the early 1990s I started practicing sitting meditation after reading Eknath Easwaran's translation of The Dhammapada, a collection of sayings of the Buddha from the Pali Canon of Theravada Buddhism. Soon after I read "Being Peace" by Vietnamese Zen Master Thích Nhất Hạnh (Thay) and this became the foundation of my mindfulness and Dharma practice. Thay's vision of a universal global ethics inspired me as an engaged and applied Buddhism that can adapt to different places, cultures, people, and times.
As a lay student of Thay's community I received the lineage/dharma name Noble Continuation to practice with and learn from. This is from the 10th generation of Dharma practitioners in the Liễu Quán lineage of the Vietnamese Thiền (Zen) tradition as part of the 44th generation of Dharma practitioners in the Línjì school of the Chinese Chán (Zen) tradition. I took refuge and received the Five Mindfulness Trainings of the Plum Village tradition from Venerable Thích Từ-Lực, a Dharma teacher ordained by Thich Nhat Hanh, along with a joyful community of supporting Dharma teachers and monastics from the Plum Village Community of Engaged Buddhism.
I have also enjoyed and continue to learn from Japanese, Tibetan, Chinese, European, American, and other Buddhist teachers, communities, and traditions. To all the teachers and all others who have nourished, supported, challenged and helped me along the path, my sincere gratitude. My list of gratitude here is always growing. Thank you to:
Tuk for teaching that we bow to the Buddha in each other.
Thầy for the way of understanding and peace.
A nun whose Hawthorne Street talk touched my heart in the mid-1990s.
Bertolucci and Berkeley for introducing me to Tibetan buddhism.
Twin Lakes and the glacier who taught me about solidity and the Earth.
Dave Barrett for Tai Chi and Qigong.
Utne Reader for publishing "Just Quit!" in 1996.
All the mud.
The monks who played basketball after meditation in the park.
His Holiness the Dalai Lama for butterflies in New Jersey in 2005.
Monks of the Drepung Loseling Institute for mandala and mala.
The Rubin Museum for music and art.
The Burmese lay and monastic community in NYC, and at the UN.
Naropa, Kirsti, and the mountaintop family in Boulder.
Venerable Karma Namgyel for mandala sand in childhood's river.
Brother Stream for re-imagining activism.
Venerable Thubten Chodron, Sravasti Abbey.
All the monastics at Sravasti Abbey.
Venerable Sangye Khadro, Sravasti Abbey.
Bob Thurman for Sci-Fi Dharma.
Dr. Jay L. Garfield for provoking my reflections on ethics and engagement.
Monica, Paul, and the Mindfulness Community of Victoria.
Eihei Peter Levitt for dealing with what is right in front of me.
The Salt Spring Zen Circle for welcoming me in their Sangha.
Mimi Kuo-Deemer for Qigong.
Kenley Neufeld for inspiring me to understand Sangha-building.
Brother Embrace for a delicious 'mud' recipe.
Jo-ann Rosen for inspiration, spaciousness, and music.
My, Melanie, Jonathan, Eric, and all at Sugarplum Sangha.
Wind Island Sangha for coming together in the pandemic.
Kaira Jewel Lingo for teaching songs and solidarity.
Venerable Thích Từ-Lực, Chua Pho Tu, Compassion Temple.
Sister True Vow, John Salerno-White, Brian Kimmel, Alex Cline, Karen Hilsberg, Chau Yoder, Lennis Lyon, Sheila Canal, Nisi Segor, Viviane Ephraimson-Abt, Helen Hobart, Denise Kato, Alex Singer-Telles, Joe Reilly, Andrew Vellino, Sharon Moy.
Thầy for coming and going in freedom.
Sister True Dedication, Brother Spirit, and all at Plum Village for continuing.